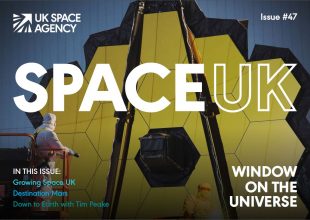 The space sector magazine spaceUK is back with a bigger and bolder edition and this time it's digital.
Download the magazine today and use Adobe Reader for the best viewing experience.
Whether you are a previous subscriber to the print edition of spaceUK and you want to continue receiving it or you are new to the magazine, you can subscribe to be notified of future issues.
The latest edition is packed with interesting content, including a feature on growing the UK space sector, a look at the next mission to Mars and an interview with Tim Peake.
We hope you enjoy it. Check it out and let us know what you think in the comments below.