Jeremy Curtis, the UK Space Agency's Head of Education and Skills, was recently awarded an honorary degree of Doctor of Sciences from Queen Mary University of London for his sterling work in space education and his contribution to space exploration policy.
Here he describes how the special day unfolded.     
"Making sure I don't trip over my gown is not part of a typical day for me.  But, mindful of certain celebrities falling into their audiences, I took extra care as I climbed the steps and tried not to be distracted by the dazzling sight of rows of academics lined up in brightly-coloured gowns and hats.
Being presented with an honorary degree is something that happens to someone else, so it still seems quite unreal.  The day began at Queen Mary University of London with a welcome from the Principal and the Chair of Council who helped me find the right size of academic gown – the long one looked best, despite the extra trip hazard – and a matching large floppy hat.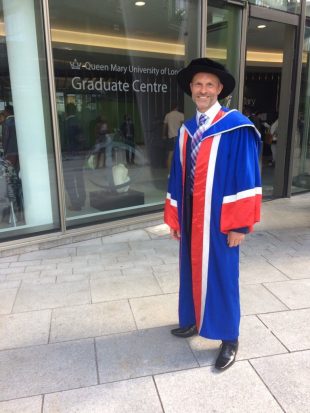 My family was ushered away to their seats and I joined a solemn procession into the Great Hall, led by the official mace-carrier (a seriously heavy weapon, should anyone have tried to stop us).
The Vice Principal, Prof McOwan, made a gracious speech, explaining my involvement in microgravity policy (which he said should not be taken lightly…), space exploration – almost all of the recommendations of the Space Exploration Working Group (that I organised) and the Space Exploration Review (that I led) have become part of government policy – and my work in space education, including Tim Peake's Principia mission which we can now say involved 1.6 million young people (15% of all UK school children) and 40% of all UK schools.
Next the Principal, Simon Gaskell, solemnly placed a scroll in my hand and a hood round my neck, completing the dazzling red, white and blue outfit.  I think I looked a bit like a walking Union Jack – and a perfect match to the UK Space Agency logo.
I was invited to say a few words to the students graduating that day, so I charged them to use their influence as role models and encourage the next generation to see the value of studying science, whether or not they decide to follow a technical career.
Then it was payback time: an hour of relentless clapping as all 250 students were announced in turn to receive a degree in engineering or materials science.  Some marched confidently across the stage, others paused diffidently, not sure at what moment to set off – but all had their moment in the spotlight and the adulation of their enthusiastic families.
My family was waiting in a separate room, supplied with nibbles and fizz, and chatted away happily to the top brass of the university.  I wondered who else would be there, but it gradually emerged that it would be just us – and a photographer on hand to record the moment for posterity.
I had time to meet a few of the students, but eventually it was time to hand back my colourful costume and return to the anonymity of rush hour on the tube."
Jeremy Curtis, Head of Education and Skills.