In 2017, I was fortunate to win the UK Space Agency's SatelLife competition, where young people put their ideas forward of how satellites could help improve life on Earth. Winning this gave me the opportunity to meet my space hero, Tim Peake.
I met Tim after his keynote speech at the UK Space Conference in Manchester. He spoke to a full audience, telling the story behind his space journey, complete with thunderous sound effects of the launch. He portrayed the incredible power and physics of space technology but so too his human story and how it has affected not only him, his body, but all the people who have been touched by his journey. After his speech, Tim met and congratulated all the winners where he gave me a small badge that he took on the Principia mission. I now treasure it along with his autograph which I've mounted in a memory case.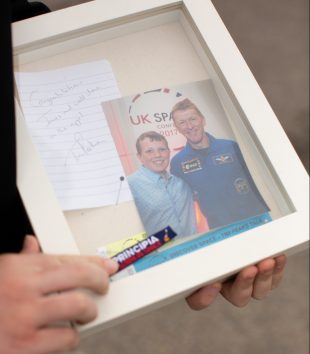 While Tim has been on the most inspirational journey, with SatelLife I began my own first steps to space. My SatelLife idea was based on having a lifelong association with my local environment, in particular the RSPB Freiston Shore Nature Reserve, lying on The Wash coast. The Reserve is an incredible marine ecosystem, replete with birds, plants and coastal wildlife; one of the few wild landscapes left in the UK. However, as a consequence of climate change, it and many coastal regions are now threatened by sea-level changes. I highlighted this in my SatelLife application and examined how satellite imagery from remote sensing by the Copernicus satellites could show change to coastal landscape over just 40 years. I built the architecture for an app that would use citizen science in conjunction with remote sensing for the community to explore not only the local wildlife but how the environment is changing.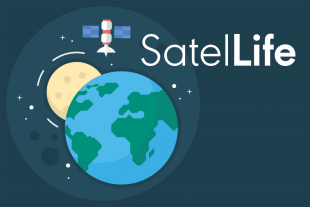 After winning the competition I pitched the idea to a space technology Dragons Den and was interviewed live on Radio 4's Today program. Like Tim, I have no idea where my own space journey will take me. While Tim has travelled towards the stars, what I have learnt is that you do not need to be an astronaut to be a space traveller.
I am now looking to the future, this year I have been back on Freiston Shore using it as an experimental site for my A-level studies. I now want to go to university where I hope to continue my personal space journey.