Despite the widespread disruption caused by the coronavirus pandemic, the UK space sector is committed to bringing in new and fresh talent. This summer, 50 paid space internships were offered by the 'Space Placements in Industry' scheme managed and funded by the UK Space Agency. The SPIN Scheme provides unique opportunities for undergraduate students to work on a spaceflight- or satellite-funded project.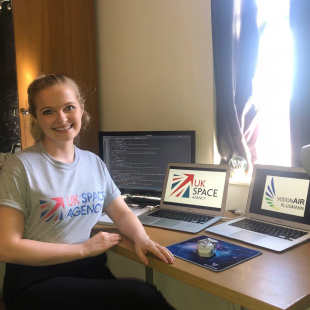 This summer, I was fortunate enough to be selected as one of the 50 interns. The whole internship from start to finish was absolutely phenomenal and I encourage anyone considering a career in the space sector to apply. The internship was eight weeks long and during that time I had the chance to work on sensors, atmospheric science and radars while programming in Python. In addition, I had the opportunity to write my own research paper where I explored the specifics of FMCW Doppler Radar Post Processing.  
I have learned a surplus of transferable skills throughout my internship, specifically, my organisational, team-working and programming skills. The internship also solidified my desire to pursue a career in the space sector; I was exposed to such incredible information and as a result, I have been left with a thirst to learn more!
I would recommend this internship scheme to everyone - it has been absolutely incredible and I would love for others to experience the same, amazing opportunity!   
In October, Ellie started teaching people to code though Code of the Future. If you're interested in pursuing a career in technology, head over to their YouTube channel where you can learn to code for free.