We are looking for enthusiastic and talented apprentices to join our Growth and Communications teams. You can read about Ellie, Tati and Steve's experiences of our apprenticeship programme below.
Ellie, 18, Programmes Apprentice
Being someone that didn't enjoy exams (who does?) and not wanting to spend £27,750 on a degree, I opted for an apprenticeship where I could get experience in the workplace and earn a qualification at the same time.
When I tell people I am an apprentice at the UK Space Agency, I always get asked the same 3 questions:
"Do you get to meet Tim Peake?"
"Does that mean you're going to be an astronaut?"
"What is the UK Space Agency?"
To be honest, when I saw the job application, I asked them too…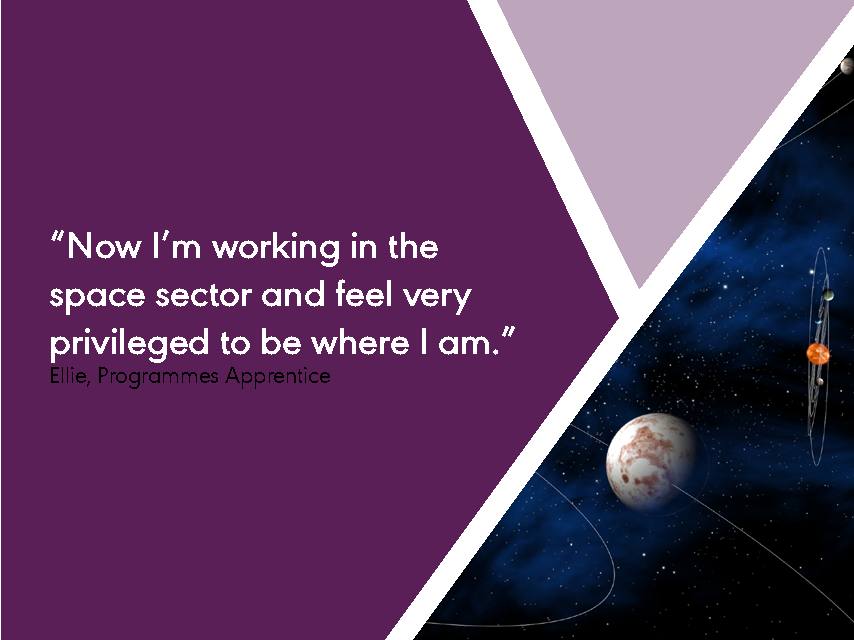 I loved learning about space when I was younger and wanted to work in exploration.  Ideally, I wanted to be the first person on Mars but when I was told that it was an unrealistic dream, I decided that princess was the next best choice.  Unfortunately Princes William and Harry are spoken for so now I'm working in the space sector and feel very privileged to be where I am.
In my role I do a lot of general administration; filing, completing forms, arranging meetings, but my favourite part of the job is attending meetings to take minutes. I am part of the Programme Management Board for Plato, a new medium-classed mission. Its goal is to detect Earth-size planets or super-Earths orbiting around stars in the habitable zone searching for habitable exoplanets.
I am really pleased with my apprenticeship and the support I get from my tutor.  In my particular course, I got to choose my study units. They were chosen taking into account my strengths and preferences. I really enjoy working at the UK Space Agency and I feel like there are lots of opportunities to evolve and develop my skills, and who knows, maybe I will get to meet Tim Peake one day.
If you are interested in a business apprenticeship, apply here. 
Tati, 21, Campaigns Officer (former Communications Apprentice)
I joined the UK Space Agency at an odd time.
I was 19 years old, retaking my A levels, working as a manager at a coffee shop and unsure if I wanted to go to university. At that age everything seems like it's coming at you at light-year speed and balancing it all can be overwhelming, but I knew two things: I loved working and I didn't want to be stuck in a dead-end job.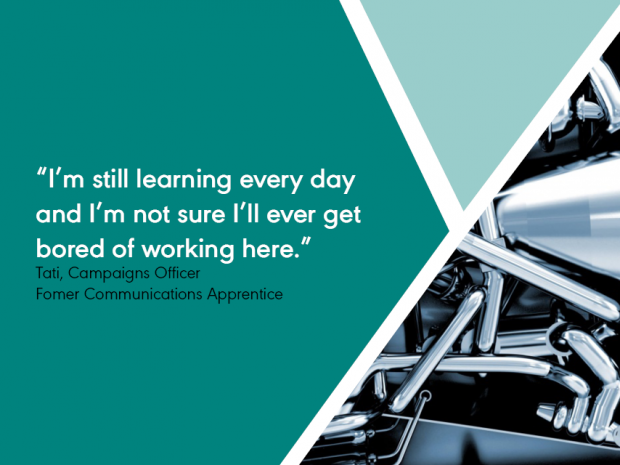 Realising that university wasn't for me, I made the tough decision to drop out of college. First I had to find myself a job where I would be able to grow. I knew an apprenticeship was the best option and I was lucky to find a Communications Apprentice vacancy at the Agency. It was the best decision I have ever made.
Trust me when I say it was a real rollercoaster. I've met a number of astronauts, worked closely with Tim Peake, been invited to No.10 Downing Street and worked an international air show. Most importantly, I've been surrounded by the most incredible team. It was sometimes challenging but I learnt so much.
I completed my apprenticeship in April 2017 and was offered a permanent job as Campaigns Officer. My role mostly consists of project-based communications with a focus on changing attitudes or raising awareness. I'm still learning every day and I'm not sure I'll ever get bored of working here.
I've managed to do so much in the last 2 years; I can only wonder and look forward to what the next few hold.
If you are interested in a communications and digital marketing apprenticeship, apply here.
Steve, 27, Digital Manager (former Communications Apprentice)
"What do you do when university doesn't feel like the right choice for you?"
That's the question I kept asking myself, over and over. I'll admit it was a while back now since I was fresh out of college with my A levels. At the time, I honestly didn't know what to do with myself. Looking back, I've never regretted my decision to pursue an apprenticeship.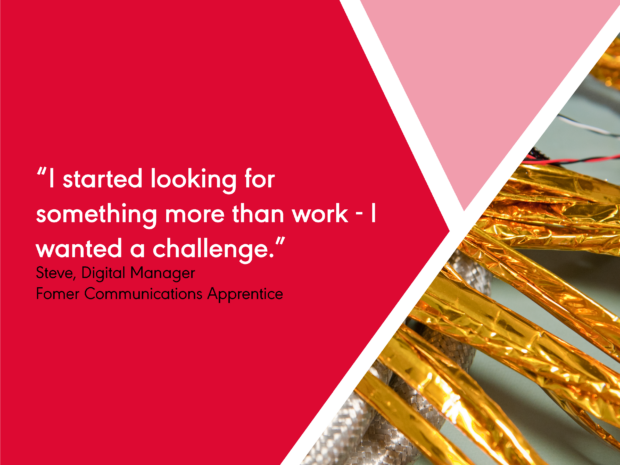 After college, I was in and out of temporary work for a year. While I had a basic wage coming in, nothing was permanent and I wasn't satisfied. Fed up with the uncertainty of temp work and just 'getting by', I started looking for something more than work - I wanted a challenge.
That's when I spotted it, an apprenticeship at the UK Space Agency (back then, the British National Space Centre). I applied the second I saw it, and was fortunate enough to get through to a nerve-racking first proper interview.
I've been here for 7 years. I head up on all of the Agency's digital activities whether it is web or social media.  My job is fun and interesting and it allows me to provide for my wonderful family.  Thanks to the Agency, I am able to study part-time for a university degree. Who would have guessed that university would end up being the right choice, just not in the way I expected it?
If you are interested in a communications and digital marketing apprenticeship, apply here.